DEDICATED TO IMPROVING THE ENVIRONMENT FOR RUFFED GROUSE, WOODCOCK AND OTHER FOREST WILDLIFE.

Le Grand Traverse Chapter of Ruffed Grouse Society 2011 tree planting
Saturday 4/9/2011 Ruffed Grouse Society members from the Le Grand Traverse Chapter with the help of Eric Ellis from the Conservation Resource Alliance (CRA) and Steve Griffith of Michigan Department of Natural Resources (MDNR) planted 595 trees. The trees where planted on state land in two locations Reynolds Rd and Lake Ann Rd. The Reynolds Rd. site was the location of previous RGS habitat work. These fruit bearing trees not only help the Grouse but many other species of birds, mammals and insects such as the swallowtail butterfly. Photos
Planters:
Rod Robison (TCRGS)
Jack Dunn (TCRGS)
Paul Huffman (TCRGS)
Brenna Huffman (TCRGS)
Rich (TCRGS)
Doug Cherry (TCRGS)
Eric Ellis (CRA)
Steve Griffith (MDNR)
Trees Planted:
130 Arrow-wood (Viburnum dentatum)
200 Spicebush (Lindera benzoin)
110 Ninebark (Physocarpus opulifolius)
40 Silky dogwood (Cornus amomum)
30 Black cherry (Prunus serotina)
30 Witch-hazel (Hamamelis virginiana)
55 Silver maple (Acer sacchrinum)
---
RD's Message

Warm wishes on yet another cold, snowy day across our region. Hopefully everyone is
digging out and getting on with things. These cabin fever days find us longing for spring and all
it brings.

Our spring/summer banquet season is well under way with events starting and event
planning in full swing. Spring brings the promise of a great and successful banquet season.

Chapter News

The New Year started off with the State Workshop/Leadership Meeting January 30th,
2010.The meeting at the Ralph MacMullen Conference Center was sponsored in part by
Weyerhaeuser Company, Grayling MI. Attendance was up this year to 41 from 28 the last two
years, with 13 chapters represented. The group enjoyed a great day filled with exciting new
information, comradery, and the opportunity for input and discussions on our new approach in
2010.

The meeting kicked off with a presentation by Dr. Gaylen Byker, Chairman of the Board
of Directors. Dr. Byker gave an overview of the new RGS Business Plan, and the "State of the
RGS". Dr Byker pointed out that we have a new national Board member from Michigan, Tracy
Larsen, from the Grand Rapids Chapter.

I followed with a detailed report on the new Business Plan and its implementation, what
it means to our volunteers, and what it will mean for our mission here in Michigan and across the
nation.

Al Stewart, Upland Bird Specialist MDNRE, gave a presentation on the status of grouse
and woodcock in Michigan. Al focused primarily on the National Woodcock Initiative and
partnership possibilities.

Gary Zimmer, RGS Regional Biologist updated all on the major efforts completed,
initiated, and underway in our state.
Ruffed Grouse Society Cooperative Projects in Michigan 2009 – 2010
Since 1985, the Ruffed Grouse Society has provided approximately 300 thousand dollars
in funding over 75 Management Area Projects (MAP) on public land across the state. These
funds have enhanced ruffed grouse and woodcock habitat on over 79,000 acres of public land.

Examples of recent RGS projects funded in Michigan include:
Heavy Equipment for Habitat Management
Early in 2009, the Ruffed Grouse Society purchased an ASV PT-100 forestry loader equipped
with a mulching head to greatly improve the Society's ability to address non-commercial habitat
management opportunities for ruffed grouse and woodcock on both public and private lands in
Michigan. In addition, the Society purchased a truck and heavy duty trailer to haul this
equipment from site to site. On the ground work with this machine began in July, 2009 with 102
acres of habitat improvements completed on state wildlife management areas and 65 acres of
work conducted on private lands in Michigan.

Huron/Manistee National Forest Stewardship Project
Currently in the planning stages, this project will target the regeneration of over-mature aspen
habitats on the Huron/Manistee National Forest. Funds derived from the commercial harvest of
this aspen will be used for a variety of habitat improvement projects including the treatment of
non-commercial aspen and alder habitat areas as well as the maintenance of wildlife openings
used by ruffed grouse during brood rearing and by woodcock as singing and roosting areas.

Gogebic County Forest Aspen Regeneration
This project regenerated approximately 100 acres of high quality aspen habitat on land managed
by the Gogebic County Forestry and Parks Commission near Ironwood in 2009. Unmerchantable
residual trees remain at recently harvested cutting units. If left untreated, aspen
regeneration would be impacted resulting in lower stem densities and poorer habitat for ruffed
grouse, woodcock and other young forest wildlife. This project is part of a long term project to
promote dense cover for these species across the Gogebic County Forest.

LeGrande Management Area Project, Cheboygan County, Michigan
Funds are being used to support ongoing ruffed grouse and woodcock habitat work on the Pigeon
River Wildlife Area, near Afton. Work includes the rehabilitation of wildlife openings,
improvements to access roads and trails and alder regeneration.

Ottawa National Forest Grouse Habitat Improvements
Work continued on an ongoing five year cooperative Challenge Cost Share Project with the
Forest Service on the Ottawa National Forest. In 2009, improvements were made to existing
hunter walking trail systems. Past work under this project included non-commercial alder and
aspen management as well as hunter walking trail improvements. All funds are matched by the
Forest Service, therefore doubling on the ground management activities.

ASV Forestry Machine Report

John Paige, volunteer with the Robert J. Lytle Chapter, Imlay City coordinator of our ASV
Forestry machine program, provided an overview of the accomplishments of the machine these
past seven months we have had the machine. The forestry machine was made possible by
generous donations by the Richard King Mellon Foundation, the Fry Foundation, and the
Charlevoix County Community Foundations.

YouTube - ruffed grouse society attacking autumn olive on v-8 club
http://www.youtube.com/watch?v=vjFD0rxcxjg

July, 2009
7/7 – 7/31
Barry & Allegan State Game Areas
Woodcock habitat improvement
50 ASV hours 43 acres
August, 2009
8/6 – 8/12 and 8/27 – 8/28
Lapeer State Game Area
Opening maintenance & ASV operator training
11.9 ASV hours 11 acres
8/15
Private land project – Midland County
Trail & opening maintenance
3.6 ASV hours 3.5 acres
8/24
Private land project – Romeo
Opening maintenance
2 ASV hours 5 acres
September, 2009
9/4 – 9/6
Private land project – Atlanta
Trail & Opening maintenance/invasive species control
14.6 ASV hours 11 acres
9/16 – 9/30
Lapeer State Game Area
Opening maintenance & invasive species control
30.8 ASV hours 49 acres
October, 2009
10/24
Private land project – Cass City
Trail maintenance
2.3 ASV hours 2 acres
10/29
Private land project – Burton
Opening maintenance
2.3 ASV hours 2 acres
November, 2009
11/11
Private land project – Wales Center
Opening maintenance
6.8 ASV hours 6 acres
December, 2009
12/3
ASV demo taping - Lapeer
Trail & Opening maintenance/invasive species control
2 ASV hours 2 acres
12/7 & 8
Private land project - Alden
Opening maintenance/invasive species control
7 ASV hours 12 acres
12/9
Private land project - Grayling
Trail & Opening maintenance
4.3 ASV hours 4 acres
12/10
Private land project - Bitely
Opening maintenance/invasive species control
4.7 ASV hours 5 acres
12/15 – 12/18
Private land project - Barton City
Opening maintenance/invasive species control
25.6 ASV hours 15 acres
Total hours on ASV - 171.6
Approximate impacted habitat acres - 165

FAQ'S

What does it do?
Shreds small trees and brush into a coarse mulch.
How big a tree will it take down?
In general 6" and smaller trees are easily mulched. The ASV will take down larger (8" to
12") trees but it takes longer to turn them into mulch.
What does it cost?
Non RGS members $125.00/tachometer hour.
RGS members $100.00/tachometer hour.
RGS membership $25.00/year
Transport $75.00/hour.
Hourly fee includes operator and fuel.

Can I operate the ASV myself?
Operating the ASV with mulching head requires special training. In general the operator
provided by RGS will be much more productive than an occasional operator.

How much will the ASV do in an hour?
One half to two thirds of an acre per hour is a reasonable expectation. Sometimes when
conditions were excellent, we have done as much as an acre per hour.

How do I schedule the ASV to work on my property?
See the RGS/ASV promotion sheet for how to contact John Paige or Gary Zimmer.
We have had a new promotional video produced for our ASV machine and it was
debuted for everyone's pleasure. Copies of the DVD will be available soon for chapters use at
fairs and banquets.

We also viewed a video highlighting the tree sheer purchased through the Andy Ammann
(Lansing) Chapter and donated to the MDNRE and in use in the Rose Lake State Game Area.
A new State Leadership Team was discussed. This idea is for a small group of dedicated
volunteers to step forward and be part of a Leadership Team which will assist in developing and
implementing programs and assisting chapters in need. Please contact me for more information.
The following is the tentative schedule for banquets, dog trials, shoots, and habitat days for 2010.


http://www.youtube.com/watch?v=Lv-jPYCSMWU
Shoule Cutter Puchased By Andy Ammann Chapter of Ruffed Grouse Society

2010 BANQUET SCHEDULE
Southwestern MI Chapter, Kalamazoo MI
Saturday February 20, 2010
Saginaw Valley Chapter, Saginaw, MI
Friday March 5, 2010
Keith Davis Chapter, Flint, MI
Friday March 19, 2010
Robert J. Lytle Chapter, Imlay City
Saturday March 27, 2010
Andy Ammann Chapter, Lansing, MI
Friday April, 16, 2010
Michiana Chapter, Michigan City, IN
Saturday April 17, 2010
Little River Chapter, Remus, MI
Saturday April 24, 2010
Thunder Bay Chapter, Alpena, MI
Date TBD
Eastern U.P. Chapter, St. Ignace
Saturday May 8, 2010
West MI Shoreline Chapter, Muskegon, MI
Friday May 14, 2010
Jim Foote Chapter, Gaylord, MI
Friday June 18, 2010
Grand Rapids Chapter, Grand Rapids, MI
Wednesday August 25, 2010
Greater Southeast MI, Detroit, MI
(SE MI Chapter & Tri-County Chapter, Ann Arbor, MI have merged)
Wednesday September 8, 2010
LeGrand Traverse Chapter, Traverse City, MI
Saturday September 11, 2010
Northwoods Chapter, Crystal Falls, MI
*Thursday September 30, 2010
Al Litzenburger Chapter, Petoskey, MI
*Friday October 15, 2010

Let's all welcome our newest chapter Little River, Remus, MI #234, and our newest Banquet
Chairman, Patrick Rheume.
We are also welcoming back the Michiana Chapter, Michigan City IN with a banquet April 17,
2010 after a year off.
Second Annual Sponsorship Raffle valued at more than $18,000
Coraopolis, PA -- 2010 started off on a positive note for Jeff Arthur of Holidaysburg, PA, and a
half-dozen other winners of the Ruffed Grouse Society's (RGS) second annual Sponsor National
Drawing.
Arthur won the drawings first place prize -- aN AYA (Aguirre & Aranzabal) No. 2, 20
gauge side-by-side hammerless shotgun, featuring detachable sidelocks, ejectors, 28 inch barrels
and double triggers. The Spanish made firearm also features a straight hand oil finished walnut
stock, English scroll engraving, gold lined cocking indicators and an automatic safety. It has a
MSRP of $5,800.
As in past years, banquet sponsors had the option of selecting a print, or entering the
national drawing that featured a selection of quality firearms manufactured by AYA, Connecticut
Shotgun, Caesar Guerini, Smith & Wesson, SKB, Steiner Binoculars, and a $1,000 Cabela's
Gift Certificate. And, just as in past years, about 70-percent of those eligible entered the drawing.
To be eligible banquet attendees would have to purchase one of three sponsorship
packages -- Banquet ($250), Conservation ($500) or Sustaining ($1,000) -- each of which
includes (along with various other incentives) 1, 2 and 4 tickets respectively.
Other National Drawing Winners were as follows:
• James Farrell, Holidaysburg, PA, Connecticut Shotgun's RBL-28 gauge round body action,
box-lock, 28 gauge shotgun, valued at $3,650.
• Robert Chambers, Parish, NY, Caesar Guerini "Magnus" Grade O/U 20 gauge shotgun, valued
at $3,950.
• Brad Lambert of Stoney Brooke Plantation, Gap Mills, WV, Smith & Wesson Elite Gold sideby-
side 20 gauge shotgun, valued at $2,380.
• Richard Geenan, Grandville, MI, SKB Limited Edition RGS No.7 O/U shotgun in 20 or 28
gauge with 26 -or 28-inch barrels, valued at $2,395.
• Mark Zwiker, Wausau, WI, choice of Steiner binoculars, valued up to $1,600.
• Ross Rackliff, Medway, MA, $1,000 Cabela's gift certificate.
Sponsor Levels & Benefits:
Level 1: Sustaining Sponsor - ($1,000)
Benefits:
8 Memberships and Dinner Tickets, 4 Chances on the Sponsor Gun Drawing
Choice of Options 1 or 2 as Described under "2010 Banquet Sponsor Rewards Program"
Recognition and/or Advertising opportunity
Your name or company name in the banquet program
Your name or company name recognized by the banquet MC
Level 2: Conservation Sponsor - ($500)
Benefits:
4 Memberships and Dinner Tickets, 2 Chances on the Sponsor Gun Drawing
Choice of Options 1 or 2 as Described under "2010 Banquet Sponsor Rewards Program"
Recognition and/or Advertising opportunity
Your name or company name in the banquet program
Your name or company name recognized by the banquet MC
Level 3: Banquet Sponsor - ($275)
Benefits:
2 Memberships and Dinner Tickets, 1 Chance on the Sponsor Gun Drawing
Choice of Options 1 or 2 as Described under "2010 Banquet Sponsor Rewards Program"
Recognition and/or Advertising opportunity
Your name or company name in the banquet program
Your name or company name recognized by the banquet MC
Level 4: Non-Attending Sponsor - ($250)

Benefits:
Recognition as an RGS Sponsor
2010 Banquet Sponsor Rewards Program
Option 1 – A sponsor may elect to receive an unframed print of the year, either the new one or
one from prior years (while supplies last). Photos of prints from prior years are available on the
RGS website: www.ruffedgrousesociety.org .

Option 2 – A sponsor may elect to participate in a national drawing at the end of the 2010 Fall
Banquet Season. There will be seven tickets drawn. The first winner will win the first item in
the list below and so on until all seven tickets are drawn. Sponsors who choose this option will
be assigned a ticket number(s) for the drawing by RGS National.
The Following Are The Seven Prizes Being Offered:
1. Connecticut Shotgun's RBL-28 Round Action, Box-Lock 28 Gauge, 26" Barrels,
Single Trigger, Side-By-Side Shotgun; 3X Wood Grade
2. AYA 453 – 28 Gauge, 28" Barrels, Side-By-Side; Walnut Stock & Forend.
3. Caesar Guerini Magnus Over/Under 20 Gauge Shotgun.
4. Smith & Wesson Elite Gold Side-By-Side 20 Gauge Shotgun
5. SKB Limited Edition RGS Model 785 Over/Under Shotgun in 20 or 28 Gauge,
26" or 28" Barrels
6. Choice Of Any Pair Of Steiner Binoculars $1,600 or less
7. $1,000 Cabela's Gift Certificate.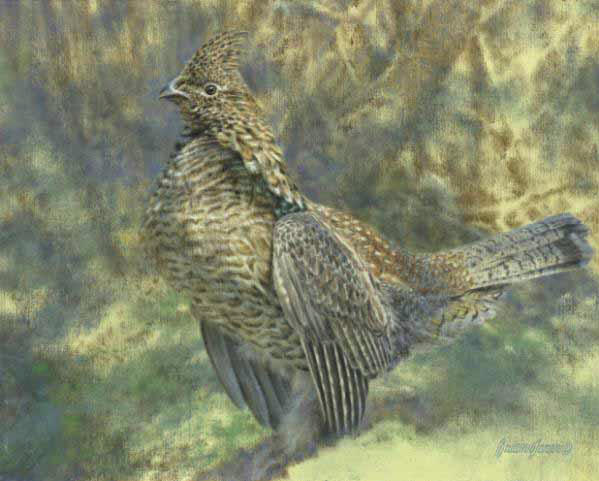 2010 Print of the Year "Standing Tall - Ruffed Grouse" by Brian Jarvi. Signed and numbered
limited edition of 600. Print size is 19.5" x 17.25" and the image size is 16.5" x 13.25".

SportDOG Grant
The Ruffed Grouse Society (RGS) was recently awarded a $5,000 grant from the SportDOG
Brand Conservation Fund to further the Cold Mountain Game Lands Murray Cove enhancement
project in Haywood County, NC.

In announcing the grant, SportDOG Brand Conservation Fund Coordinator Gary Williams said,
"SportDOG Brand annually supports the conservation efforts of sportsmen and conservation
organizations such as yours throughout North America and we are proud to partner with you by
supporting your current project."

According to RGS Regional Director Don Mallicoat, the project, which is also known as the
Jerry Smathers Project -- so named after a local forester and RGS member who died suddenly in
2006 -- was spearheaded by RGS' Southern Appalachian Chapter, in cooperation with the North
Carolina Wildlife Resources Commission (NCWRC) and, along with cutting a road (linear
wildlife opening) to a multi-stage timber harvest of nearly 150 acres, it will allow for better
management of the forests including stand improvement, habitat management, control of exotic
plant and animal species, and law enforcement needs.

"The Jerry Smathers Project at Cold Mountain SGL has progressed even faster than we expected,
mostly because of the collaborative efforts of the NCWRC and our local chapter," said RGS
Senior Regional Wildlife Biologist Mark Banker.

"The recent grant from SportDOG was tremendously important for finishing the project that will
allow for as much as 150 new acres of habitat. I know RGS and the family of Jerry Smathers are
extremely grateful for their support. We look forward to doing more habitat work with them in
the future," Banker said.

When completed the project will provide quality early successional wildlife habitat that will
benefit grouse, deer, rabbit, small mammals, and various species of songbirds.
________________________________________



Western Great Lakes Region
FAN UPDATE

Volume 9, Issue 1 April 15, 2009

--------------------------------------------------------------------------------


The Equipment is Coming, The Equipment is Coming!!
The Ruffed Grouse Society (RGS) recently received three grants totaling $182,000 to purchase heavy equipment for managing habitat in the Upper Midwest. RGS has purchased two ASV/Terex PT-100 Forestry loaders (similar to the machine shown above) with mulching heads with grants of from the R.K. Mellon Foundation, the Frey Foundation of Grand Rapids, MI, and the Charlevoix County Community Foundation located in East Jordan, MI.

The new pieces of equipment will service Michigan and Wisconsin as well as surrounding states. The versatile equipment will allow the RGS to help public and private partners aggressively manage neglected aspen, alder and brush habitats for ruffed grouse, woodcock and many other species. The RGS and its partners have been operating similar equipment in the Northeast for several years with excellent results.

The equipment program has allowed the Society and its partners to manage high quality habitats that typically are neglected because of the lack of proper equipment. Woodcock in particular have benefitted because large areas of old fields, prime woodcock habitat, that are typically left to convert to forests are now maintained as shrublands.

"We are extremely grateful to our funding partners who have allowed us to grow this program", stated RGS Executive Director and CEO Mike Zagata. "These machines will help us manage critical habitat on public and private lands in two crucial states".

"These pieces of equipment are important tools to help the Ruffed Grouse Society target habitat improvements for woodcock in habitat, like alder, that is not being managed by commercial harvests," adds Gary Zimmer, RGS Senior Biologist in the Western Great Lakes Region. "With this equipment the RGS will be one of the primary implementers of the Upper Great Lakes Woodcock and Young Forest Habitat Initiative."

--------------------------------------------------------------------------------
You Missed Out! 0 Days Left!
Enter the 2008/2009 RGS Upland Bird Dream Hunt Raffle Today

Thanks to all who have purchased a national raffle ticket so far. If you haven't, please enter soon or you might miss out on a upland game bird hunting trip of a lifetime.

First Place Prize - All Expense Paid Trip for Two to hunt from October 3-5, 2009 for sharptail grouse and Hungarian partridge at Bear paw Mountain Outfitters in Havre, Montana followed by participation in the National Grouse and Woodcock Hunt in grand Rapids, Minnesota from October 6-9. Both hunters also receive an SKB model 1785 o/u shotgun. Approximate value of package: $18,000.

Second Place Prize - $1,000 Cabela's Gift Certificate

Third Place Prize - Custom fitted Pair of upland hunting boots from Russell Moccasin Co. Approximate value of boots: $400.

Donation for Tickets is $50 each with winners drawn on June 30, 2009.

To Purchase Raffle Tickets Contact: Gary Zimmer

at 715-674-7505 or rgszimm@newnorth.net or mail the following to:

RGS P.O. Box 116 Laona,WI 54541

Raffle Ticket Form click here


--------------------------------------------------------------------------------

New CRP Program Promotes Habitat for Ruffed Grouse in Iowa


Landowners in Northeast Iowa have a unique opportunity to reverse the downward population trend of Ruffed Grouse, Woodcock, and many types of migrating songbirds. The United States Department of Agriculture (USDA) is offering a new Continuous Conservation Reserve Program (CCRP) targeted at Early Successional Forest Species such as Ruffed Grouse.

The State Acres for Wildlife Enhancement (SAFE), or Early Successional Habitat program, is meant to develop CRP habitat on marginal crop ground that will provide specific food, nesting and cover needs required by numerous bird species that are showing nationwide decline. Early successional forest habitat is a very young forest, or edge habitat, characterized by a dense growth of saplings and shrubs. Periodic cutting is necessary to maintain this type of habitat. Aspen stands, for example, will die out if they aren't cut every 15 to 20 years.

Oak and Aspen are the preferred tree species for this practice. The oak will be left to grow to maturity to provide food for many species of wildlife, and the aspen will be cut to maintain dense, early successional growth for grouse and songbirds. Shrubs and a narrow grass buffer can also be implemented to maximize sunlight and nutrients next to existing crop ground.

Early Successional SAFE has many of the bonuses that other Continuous CRP programs offer, including a Signup Incentive Payment of $100 an acre, up to 90% cost share to establish the desired habitat, and an annual rental payment for 10 or 15 years.

Greg Schmitt, DNR Private Lands Biologist for northeast Iowa says, "If anyone wants to plant trees on their marginal cropland and get paid to do it, this program is perfect for them. With the signup incentive, the cost share rates, and annual payment on poorer crop ground, it pencils out very well for a landowner's bottom dollar."

There is no Highly Erodible Land index requirement or a maximum amount for acres offered in Early Successional SAFE. Producers in Allamakee, Clayton, Fayette and Winneshiek counties in Iowa can submit offers to enroll cropland acres for 10 to 15 years. To be eligible for this signup, land must meet basic CRP eligibility requirements. CRP rental rates increased in October, 2008. For more information, contact Greg Schmitt at 563-422-6201, your district forester, or your local FSA office.


--------------------------------------------------------------------------------
Forest Service Wins Two Court Decisions in Wisconsin

Judgements in favor of the US Forest Service were recently received on two vegetation management projects on the Chequamegon/Nicolet National Forest in Northern Wisconsin. On January 12th, District Court Judge Lynn Adelman of the Eastern District Court ruled that the Forest Service had adequately addressed cumulative effects in the Twentymile Project on the Great Divide Ranger District. This project includes over 9,000 acres of vegetative management. The plaintiffs in the case were the Habitat Education Center out of Madison, WI and the Environmental Law and Policy Center from Chicago. They claimed that the Forest Service failed to properly consider the effects of the project on forest species like the American Pine Marten, Northern Goshawk, and the Red-shouldered Hawk.
On March 19th, the same judge also ruled in favor of the Forest Service on similar grounds on the Fishbone Project, on the Washburn Ranger District. This project would impact approximately 5,000 acres within a 22,000 acre project area.
These decisions are good news for finally moving the implementation of the 2004 Forest Plan along but on March 13th the plaintiffs appealed the ruling in the Twentymile Project to the 7th Circuit Court of Appeals and have asked for a stay in awarding any timber sales in the area.


--------------------------------------------------------------------------------

Wisconsin COVERTS Project Expands to Include Illinois Residents
Applications Due by June 15th


Building on its success, the Wisconsin Coverts Project will be expanding to two workshops in 2009. The traditional Wisconsin workshop for private forest landowners will be held August 13 - 16 at Kemp Natural Resources Station near Woodruff, WI. A second workshop targeting absentee landowners who own land in Wisconsin, but reside in Illinois is being supported by the T. Stanton Armour Chicagoland RGS Chapter. This workshop will be held at the Max McGraw Wildlife Foundation in Dundee, IL from August 27 - 30. These 3-day sessions have had rave reviews from past attendees that have become Covert Cooperators through past workshops.

Now starting its 16th year, 374 cooperators have attended these workshops. Sharing with others what they have learned these Coverts Cooperatorshave influenced the management of over 434,000 acres of land in Wisconsin. This workshop is highly recommended for those landowners interested in better understanding their role as stewards of their property. For additional information on the workshop contact Jamie Nack at 608-265-8264 or by email at jlnack@wisc.edu . Attendance is limited. More information is available on the Coverts Project website at http://forestandwildlifeecology.wisc.edu/wl_extension/wicovertsproject.html . Deadline for applications is June 15th.


--------------------------------------------------------------------------------
Missouri Private Landowner Workshop on April 18th

The Mid-Missouri Chapter of the Ruffed Grouse Society and the Missouri Department of Conservation are once again sponsoring a Forest Management Workshop for Private Landowners on Saturday, April 18th on the Bill Haag property near Portland. Starting at 9 AM, the workshop will include forestry and wildlife specialists discussing tree identification, cost share opportunities, forest and wildlife management, and timber harvest methods. An optional dawn tour to listen for drumming grouse is also available. For information call Josh Stevens at 573-592-1400, ext. 4.


--------------------------------------------------------------------------------
Forest Management Guidelines for Michigan Publication Now Available

The Michigan Society of American Foresters has put together a publication of forest management guidelines for both professional foresters and landowners to assist in the management of our forest resource.

The forest management guidelines recognize the renewable nature of forests and the influence of forest management practices on the many uses of the forest including water, recreation, wildlife, timber, and aesthetics. Because of the diversity of forest conditions, values, and ownerships, no set of management guidelines can cover all situations. Professional and landowner judgment must combine scientific knowledge with these guidelines to determine management practices for a particular property.

The goal of these guidelines is to provide for conservation and stewardship of all forest lands in Michigan. The Michigan Society of American foresters challenges landowners, forest managers, forest industries, and timber harvesting contractors to follow these guidelines. They provide a common sense approach to better manage the forest lands of the state. This publication can be found at: http://michigansaf.org/Business/MSAFguide/MainPage.htm .

Upcoming RGS "Habitat" Events in the Region

April 18 - Missouri Forest Management Workshop for Private Landowners near Portland, MO. Contact Josh Stevens at 573-592-1400, ext. 4 for more info.

April 20 - Wildlife Habitat in Early Successional Forests Workshop at Michigan Technological University in the U.J. Noblet Forestry Building, Houghton, MI. Contact Michael Rose at 906-281-0899 for info.

April 25 - Intro to the Outdoors Youth Education Day near Marshfield, WI, sponsored by the West Central Wisconsin RGS Chapter. Contact Rich Chronquist at 715-387-1163 for info.

April 25 - Habitat Work Day on the Oconto Co. Forest near Breed, WI. Contact Dave Bartz at 920-743-6004 for info.

May 16 – Habitat Work Day on the Eagle River/Florence District of the Cheq/Nicolet National Forest . Contact Dave Bartz at 920-743-6004 for info.

June 15 - Sign Up Deadline for WI Coverts Workshops, Contact Jamie Nack at 608-265-8264 or email at jlnack@wisc.edu .

June 20 – Habitat Work Day on the Cheq/Nicolet National Forest near Laona, WI. Contact Dave Bartz at 920-743-6004 for info.

August 13 to16 - WI Coverts Workshop, Contact Jamie Nack at 608-265-8264 or email at jlnack@wisc.edu .

August 27 to 30 - WI Coverts Workshop in Illinois, Contact Jamie Nack at 608-265-8264 or email at jlnack@wisc.edu .

----------------------------------------------------------------------------


Please feel free to contact me if you have any questions:

Gary Zimmer, Sally B. Searle Senior Regional Biologist, Ruffed Grouse Society

P.O. Box 116 Laona, WI 54541 Phone: (715) 674-7505 email: rgszimm@newnorth.net



The Ruffed Grouse Society is the one international wildlife conservation organization dedicated to promoting conditions suitable for ruffed grouse, American woodcock and related wildlife to sustain our sport hunting tradition and outdoor heritage. For information on the Ruffed Grouse Society, please call 888-564-6747 or check out the RGS website at www.ruffedgrousesociety.org .



--------------------------------------------------------------------------------
Michigan Habitat Updates - Michigan Habitat Updates.pdf
Le Grand Traverse Chapter
2009 Newsletter

Happy New Year Fellow RGS Members, I want to take this opportunity to thank each and every one of you for your continued support of the Le Grande Chapter of the Ruffed Grouse Society. Best wishes to everyone for a happy, healthy New Year, canine and human alike.

2008 Year in Review
WOW what a year, through your generous support of our chapter we experienced significant growth in 2008, helping to raise funds and promote the Ruffed Grouse Society's mission. I would be remiss to not thank each of the committee members for their hard work and dedication to the Chapter it is much appreciated. Also I would like to recognize our community business partners, sponsors, and members for their generous donations and financial contributions in 2008, specifically with the banquet.

2008 Banquet Huge Success!
In 2008 we experienced a 29% increase in attendance at our Annual Banquet. Held two days before opening day of Grouse Season, 181 folks gathered at the Great Wolf Lodge for fun, food, and bidding. Hugh MacMaster was the recipient of the 2nd Annual Ray Bunn Sportsman of the Year Award. Paul Fischer was recognized for over 10 years of volunteer commitment to the chapters committee!

2008 Dog Trial Re-Cap
A few highlights from 2008 include a great dog trial that saw 60 different dogs, 9 different breeds, and 41 different dog handlers converged on Thundering Aspens Shooting Preserve in Mesick, MI. We had three divisions featuring Pointing, Flushing, and a puppy class. Total attendance for the event was pushing 80 RGS members and guests!

Speaking of Paul Fischer, congratulations to Paul and his wonderful Pointer "Rip" for winning the 08 MI RGS Gun Dog of the Year title.

2009 Growing Forward
Each year the chapter works to analyze what we can do to not only raise funds for the RGS, but to also build a community organization that creates camaraderie for its members. We are pleased to announce that for the third year in a row the banquet will be held on a Saturday night. We will have a new location this year and expect to see everyone at the Williamsburg Dinner Theater on September 12, 2009!

2009 "NEW" Dog Training Nights
Also new this year will be four dog training nights starting in May. These nights are designed to gather members together and help train our Grouse dogs. They will be held on licensed dog training grounds, and birds should be available for sale at the grounds that night. The idea is to gather a wealth of knowledge and offer assistance and pooling of equipment. Training in a group is not only fun but also a great way to learn from each other.

More on Dogs
Dogs are central to our member activities, after great success and feedback about the expansion of our annual fun hunt, we will once again be going forward with three divisions at the May Fun Trial; Pointing, Flushing and Puppy divisions will be run. With the top 4 dogs from each open division qualifying for the GDOY trial. If you have never attended or participated in one of these events, please join us for all finds of fun. We are always looking for qualified Judges for this event, if you are interested in judging please contact Fritz Heller at 231-590-0864.

Join RGS